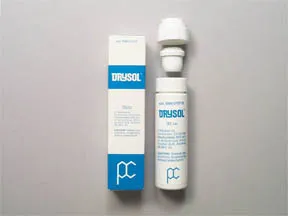 Drysol is the prescription drug that is clinically proven to help people suffering from hyperhidrosis or performing jobs and activities that can exacerbate excessive sweating. Drysol is a topical solution approved by the Food and Drug Administration (FDA) to reduce excessive sweating in the underarms and sweat glands in other affected areas.
Aluminum chloride is the generic name for the active ingredient in Drysol products. Drysol is a brand name that is also called Drysol Solution, Drysol Dab-O-Matic or Drysol Dab. Drysol reduces and prevents excessive sweating in the underarms and is designed for external use only. Drysol is a registered trademark of Person and Covey.
Drysol Extra Strength uses aluminum chloride hexahydrate which has shown in clinical trials to be stronger than deodorant or antiperspirant. Drysol's medicated products can be prescribed following an appointment with a licensed health care provider. Health care professionals can offer advice on applying treatment to the affected area and possible side effects based on personal medical history.
To use Drysol, apply a thin layer to the affected area. Drysol Dab and Drysol-Dab-O-Matic provide an applicator. Wash and clean the affected area before applying to dry skin. To speed up drying users can select the warm setting on a hair dryer.
Drysol works best when left on the skin for 6-8 hours. Protect the treated area after application. When applied to the scalp a shower cap can be worn.
Plastic wrap works best on exposed skin and should be applied and covered by a t-shirt. Wrap feet and hands in plastic wrap and then cover with a mitten or sock.
Drysol should not be applied to broken, irritated, or shaved skin. If ingested or medication gets in the eyes, call 911. If unavailable, call a poison control center.
All Drysol products should be stored at room temperature and kept out of the reach of children. Do not use Drysol Solution or Drysol products near an open flame.
In some cases, medications can cause an allergic reaction. Seek medical attention if there is evidence of hives or other symptoms related to minor allergic reactions.
Before starting any new medication ask a healthcare professional about possible side effects related to personal medical conditions.
Drysol works best when taken consistently. In the event of a missed dose skip the next dose and take the scheduled dose at the regular time. Do not take more than one dose at a time.
Seek medical advice regarding breastfeeding and other specific medical concerns.